The Tabletop Tomb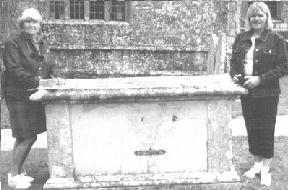 This tomb was restored some years ago with Bill Budden paying for most of the work. I have recorded what is inscribed on it below as accurately as I can, but some of the dates were difficult to read!
Inscriptions (side facing church). In Memory of John, son of Rob and Joan Budden. Died 05.11.1789 45 years old. Their son William. Died 31.1.1790 41 years old. Their son Henry. Died 30.4.1807 54 years old. George Gibbs Budden - rest illegible.
Inscriptions (farside) Robert. Died 1762 53 years old. Joan. Died 5.12.1787 78 years old. James their son. Died 1757. Robert their son. Died 1802 51 years old.